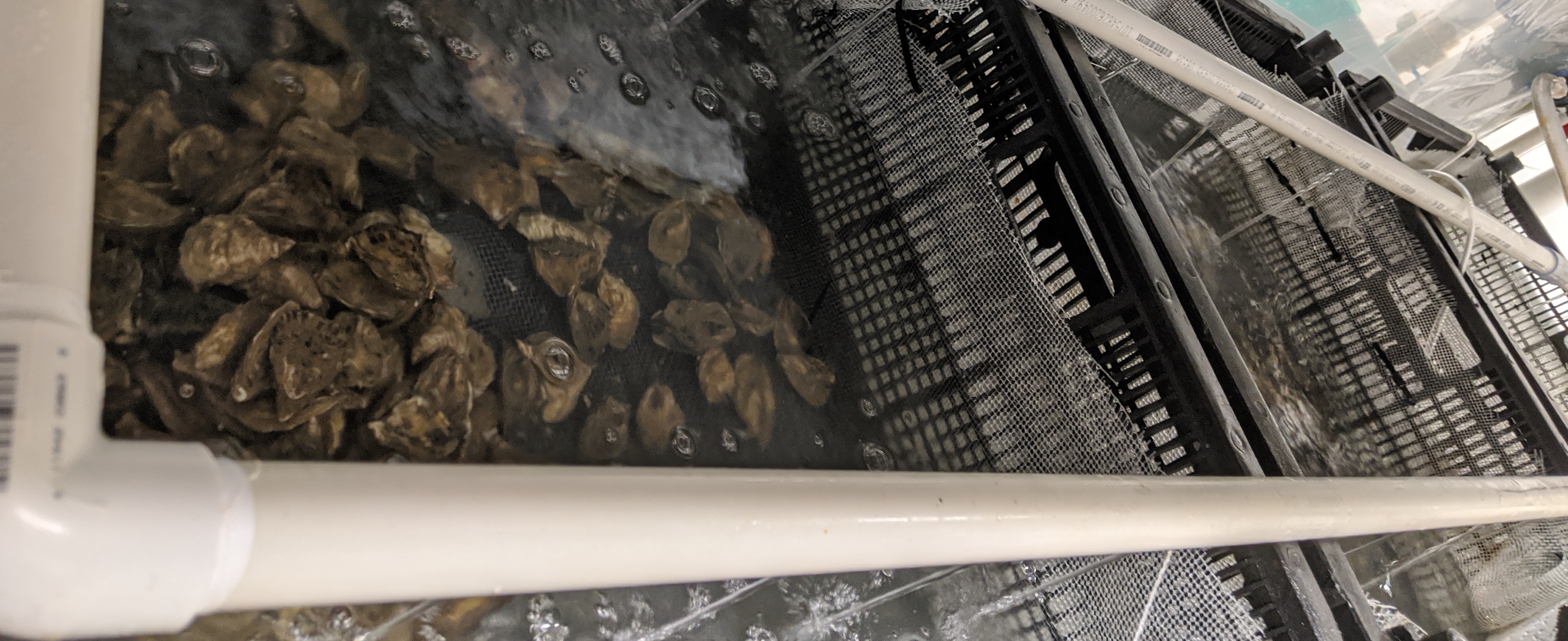 Does thermal history influence the tolerance of Pacific oysters (Crassostrea gigas) to marine heatwaves and temperature-associated diseases?
For my PhD research in Dr. Ted Grosholz's lab at UC Davis, I am studying how warming and the temperature-associated disease, Ostreid herpesvirus (OsHV-1) affect the farmed Pacific oyster Crassostrea gigas. I'm also interested in seeing if priming oysters to warmer temperatures influences C. gigas' response to OsHV-1.
In The News
Russia's unfrozen Laptev Sea is not the only warning sign of climate change | California Aggie [November 2020]
Oceans Under a Changing Climate | UC Davis Unfold Podcast [October 2020]
Warming oceans could mean bad news for oyster aquaculture | UC Davis Coastal & Marine Science Institute [August 2020]
Collaborators
Dr. Colleen Burge, Assistant Professor at the Institute of Marine and Environmental Technology
Funding
California Sea Grant Graduate Research Fellowship
National Science Foundation Sustainable Oceans Research Traineeship
Russell J. and Dorothy S. Bilinski Fellowship at Bodega Marine Lab
Dennis and Patricia Salisbury Graduate Student Award
---
Publications
Barclay, Kristina M., Gaylord, B., Jellison, B. M., Shukla, P., Sanford, E., Leighton, L. R. 2019. Variation in the effects of ocean acidification on shell growth and strength in two intertidal gastropods. Marine Ecology Progress Series.doi.org/10.3354/meps13056.

Cavalcanti, G.S., Shukla, P., Morris, M., Ribeiro, B., Foley, M., Doane, M. P., Thompson, C. C., Edwards, M.S., Dinsdale, E. A., Thompson, F. L. 2018. Rhodoliths holobionts in a changing ocean: host-microbes interactions mediate coralline algae resilience under ocean acidification. BMC Genomics.doi.org/10.1186/s12864-018-5064-4.

Shukla, P. Edwards, M.S. 2017. Elevated pCO2 is less detrimental than increased temperature to early development of the giant kelp, Macrocystis pyrifera (Phaeophyceae, Laminariales). Phycologia.doi.org/10.2216/16-120.1.
Chapters & Reports
Science in Action: Exploring the Future of U.S. Aquaculture, A COMPASS Roundtable on Ocean Aquaculture.2020.

Oldach, E. J., Shukla, P.. 2020. Vulnerability Assessments for Evaluating the Sensitivity of Infrastructure to Environmental Change. Encyclopedia of the UN Sustainable Development Goals: Industry, Innovation and Infrastructure. doi.org/10.1186/s12864-018-5064-4.

Gaylord, B., Rivest, E., Hill, T., Sanford, E., Shukla, P., Ninokawa, A., Ng, G. 2018. California Mussels as Bio-Indicators fo Ocean Acidification.. California's Fourth Climate Change Assessment. Report.